Easily control download and upload rate for every computer in your network, limit bandwidth quota and time usage, share Internet connection (NAT), configure firewall and more…


Bandwidth Manager Software
Tired of complaints or systems freezing from a slow net connection? High bandwidth costs?
Excessive demand, even from a small section of your network, will slow or cripple the Internet performance of all your computers.
If you've had to forcibly reboot a stuck machine or simply suffer from repeated complaints of slow connections, you know the problem.
Purchasing more bandwidth does not solve it, as experience shows unrestricted traffic will always expand to use the bandwidth available!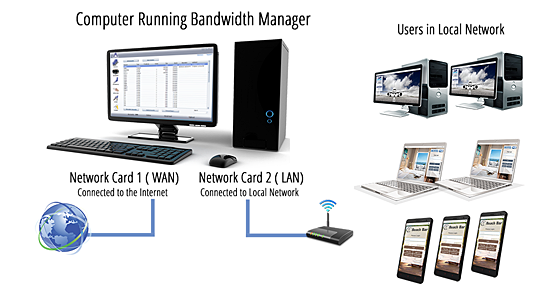 Now, with Antamedia, you can gain feature-rich control over Internet usage for every computer in your network, from this simple, centralized bandwidth management control panel: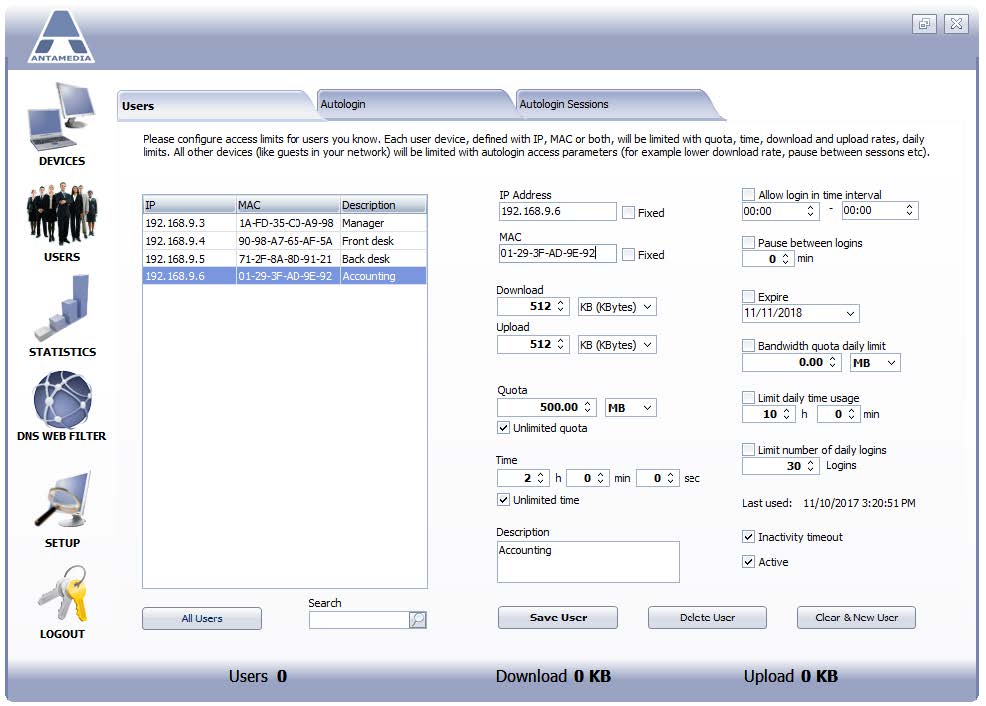 Antamedia Bandwidth Manager also reduces the risk of lost business from critical systems "hanging", with possible data corruption.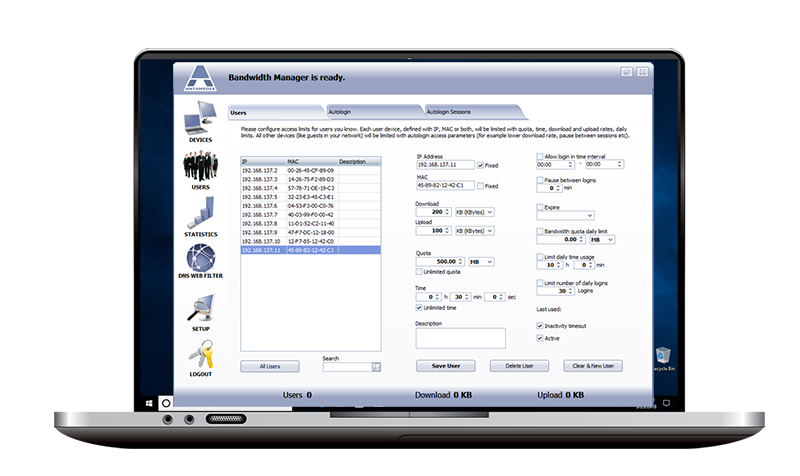 Antamedia Bandwidth Manager helps you control and limit Internet usage, download and upload, data traffic for every computer in your network.
It runs on a Windows 10 / 8 / 7 or Server OS and is super easy to setup and use.
Computers can be limited with specified time and quota per session, day time when access is allowed and set to logout after inactivity.
Software includes statistics, reporting and many other features.
Bandwidth Manager Software Features
Control Access to Internet
Manage Upload & Download Limits
Cost Effective, Software Gateway
You no longer need to install software on each computer to control bandwidth quotas, set time limits and priorities for different users, configure firewalls and other advanced features, such as blocking unauthorized websites.
Antamedia Bandwidth Manager software controls download and upload rates for every computer in your network, using a shared Internet connection (NAT), meaning it acts as a gateway to the Internet.
Available from as little as $99 for the smaller business, up to only $349 for the unlimited Enterprise, it's so cost effective that your "big picture" ROI can be almost immediate! Read on for the benefits and advanced features of this powerful new software-only solution:
Bandwidth Manager Benefits
• Improves network efficiency for happier, more productive users
• Reduces your overall bandwidth requirements, saving money
• Ensures all workstations receive a suitable allocation of resources
• Prevents software hanging from unresponsive Internet connections
• Protects your business by preventing access to blacklisted sites
• Dedicated speed and/or bandwidth where it's needed most
• Added security, by cutting connections outside of working hours
• Avoids employees wasting time with video or music downloads
• Tracks bandwidth use, so you can see where your money goes
Advanced Features – More than Bandwidth Management
Antamedia Bandwidth Manager is different from most bandwidth management software applications, with a wider range of advanced features, coupled with ease of use for you, the administrator:
• True bandwidth management by kilobyte, rather than IP to IP or rules
• Flexible: Each computer can have different download and upload rates
• Controls both speed and bandwidth (e.g. 60 Kps, 10 Mb, or both)
• Bandwidth Manager doesn't need proprietary hardware, saving money
• Easy deployment on any standard PC with two network cards
• "Gateway" system, with easy-to-use centralized control panel
• Real-time monitoring of active computers
• Limits computers with time and quota sessions for precise control
• Time of day feature, preventing use outside of allowed hours
• Can be set to log out after inactivity, freeing bandwidth
• Automatic log in modes for recognized and/or new computers
• Whitelisted sites e.g. your company site, do not use quota (optional)
• Detailed statistics, down to the usage of a specific PC
Bandwidth manager provides all the features you need to control the amount of bandwidth each user gets on your access.
Watch online activity per user.
Allow login in the specified time interval, configure pause between logins, maximum allowed logins, expiration date, bandwidth quota daily limit, daily time usage limit, maximum daily logins.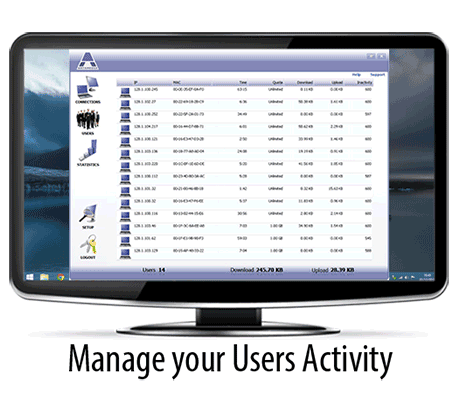 Who is Using Bandwidth Manager Software?
Internet Café, Cyber Café , Resorts, Hotels, Motels, enterprises that provide Internet access to guests, Hospitals, Universities, Schools or other education institutions , Coffee Shops, Shopping Malls, Conference Centers, Business Centers, apartment Internet service control etc.
Antamedia bandwidth management software is perfect for Internet and game cafés as it tightly integrates with any available CyberCafé management software. If used with Antamedia's specialist Internet Café, operation is fully automated and extra easy. You can set maximum download and upload rates for your customers, with each computer connection auto-disabled at session end.
For other businesses it may be invaluable for something as simple as guaranteeing a specific system is allocated 256 Kps between 9 and 5 pm. Whether you use all the features or just a few, Bandwidth Manager will scale and grow with your needs, while giving you detailed information on just where your bandwidth is being used.
Controls and Blocks Websites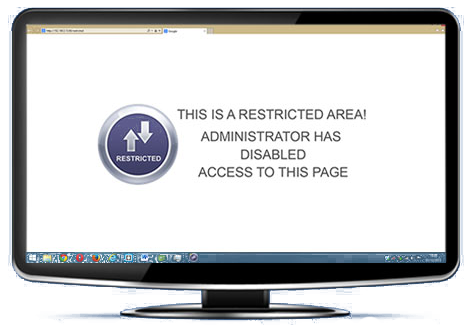 Get Started With Bandwidth Management Today!
The freedom, high speed and benefits of the Internet can be a great boon for any business but Internet access can be harmful and expensive if not controlled. By exerting responsible management you can protect your business, speed up your network and reduce costs, all via a simple, intuitive software control panel.
This fully functional and obligation-free trial period download means you can assess Antamedia Bandwidth Manager today, without any risks or major reconfiguring of your network. Try it right now and discover why Antamedia has become the world's favorite for resource management software solutions.
Antamedia Help & Support Center